Workforce Development
What is Workforce Development?
Workforce development involves educational institutions, industry and government working together to empower individuals and organizations to realize their maximum work potential.

Conestoga Career Centre has a proven track record working with employers in our communities.
We can work with you to:

assist with recruitment, hiring and training initiatives,

link to Conestoga College Corporate Training for innovative training initiatives,

navigate financial incentives and grants available through the funding of the provincial government, Employment Ontario, and

provide information and resources on Essential Skills and the Test of Workplace Essential Skills, (TOWES) assessment to prepare your workforce to up-skill.

Are you an employer with a training need for your employees and uncertain on how to apply for Canada-Ontario Job Grant contact Erika Ellis at 519-885-0300, ext. 5609 or by email at Eellis@conestogac.on.ca.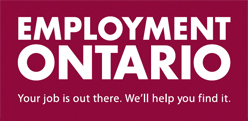 This Employment Ontario program is funded in part by the Government of Canada and the Government of Ontario.